If you enjoy fishing, Watauga Lake stocks Black Crappie, White Crappie, Bluegill, Brown Trout, Lake Trout, Rainbow Trout, Largemouth Bass, Smallmouth Bass, Spotted Bass, and Walleye. If you fish at Lake Watauga , please note that a Tennessee State Fishing License is required.
---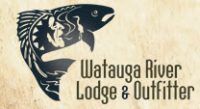 643 Smalling Rd, Watauga, TN 37694
Welcome to the Watauga River Lodge located on the trophy section of the Watauga known to produce gargantuan browns, football-shaped bows and bug chugging brookies – so break in your own equipment or let our expert guides provide you with everything you'll need to tame these trout.
Then mix it up with a float for smallmouth or a trek for wild fish. Year-round the Watauga River Lodge guides can put a bend in your rod and a smile on your face.