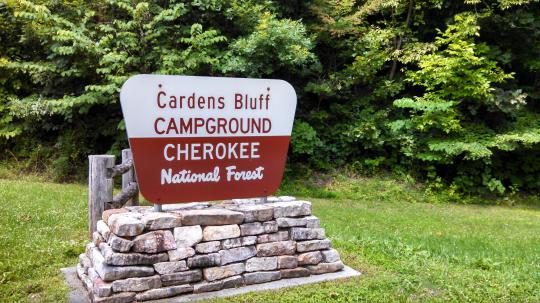 4400 Unicoi Drive
Unicoi
TN
37692
US
Facilities:
There are 40 campsites within Cardens Bluff Campground. Each section of the campground has flush toilets. In addition, there is an accessible shower house with eight showers for the campground. Recycling has been added to the campground, including aluminum, glass and plastic.
Nearby Attractions:
The nearby Rat Branch Boat Launch is an easy five minute drive from the campground for campers with motor boats. Shook Branch Swim Area is also nearby on the shores of Watauga Lake. Big Laurel Branch and Pond Mountain Wilderness areas are located north and south of the campground for more rugged, backcountry hiking.
Activities and Amenities
Within Facility

Accessible Campsites
Accessible Drinking Water
Accessible Flush Toilets
Accessible Grills
Accessible Parking
Accessible Showers
Accessible Sites
Accessible Trails
Accessible Vault Toilets
Accessible Walkways
Birding
Boat Trailer Parking
Campfire Rings
Canoeing
Cell Phone Service
Drinking Water
Fishing
Flush Toilets
Grills
Hiking
Host
Hot Water
Interpretive Trails
Kayaking

Lake Access
Lantern Posts
Parking Area
Paved Parking
Paved Parking Spurs
Paved Pathways
Paved Roads
Pets Allowed
Recycling
Self Pay Station
Shade
Showers
Star Gazing
Swimming
Tables
Tent Pads
Tent sites
Trash Collection
Water
Water Access
Water Activities
Water Spigot
Waterfront Sites
Wildlife Viewing

Within 10 Miles

Accessible Boat Ramp
Accessible Picnic Areas
Accessible Picnic Shelters
Accessible Swimming
Beach
Beach Access
Boat Ramp
Day Use Area
Emergency Phone
Emergency Services
Fishing Dock

Fuel Available
General Store
Hunting
Ice
Motor Boat Rentals
Pontoon Rental
Restaurant
Sailboarding
Sailing
Shooting Range
Trailheads
Know Before You Go
The gates to the campground are closed from 10:00 p.m. to 7:00 a.m. Guests of campers are asked to leave before the gates are closed; All developed recreation areas in the Cherokee National Forest are alcohol free to promote family-friendly recreation; Campfires are limited to the burning of wood only. It's state law; Be careful with food scraps and trash. Keep a clean campsite to prevent unwanted critters and bears; One third of the campground is available for those without advanced reservations, on a first-come, first-served basis. Only sites 16, 28 and 29 are suitable for up to a 30 foot camper.
Getting There:
GPS Info. (Latitude, Longitude):
36.30972, -82.11528
36°18'35″N, 82°6'55″W
From Elizabethton take US 19E/321 south 5 miles to Hampton. Turn left on 321/67 travel 3 miles to the campground entrance on the left.